Benvenuti…
Willkommen… Welcome…

Dove andiamo?

L

a prime due parti del viaggio, Svizzera-Kirgistan e Canada-Florida, parte della nostra storia (cfr. la pagina 'Dove siamo stati')

Ora abbiamo iniziato l'avventura sudamericana.

Wohin gehen wir?

Die ersten zwei Teile der Reise, Schweiz-Kirigistan und Kanada-Florida, haben wir hinter uns gelassen (vgl. die Seite 'Wo sind wir gewesen').




Nun hat das Abenteuer Südamerika angefangen

.

 

Wehre are we going?

The first two  parts of our trip, Switzerland-Kirgistan and Canada-Florida, belong to our history ('ee 'Wehre have we been')


Now the South-America adventure has begun.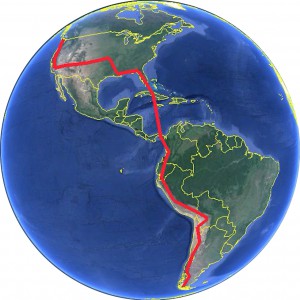 DA CARTAGENA/CO  a USHUAIA/ AR …
VON CARTAGENA/CO  nach USHUAIA/ AR …
FROM CARTAGENA/CO  to USHUAIA/ AR …

Datum / data

Land / paese

Etappe / tappa

Km

Tot.

Tag

30.11.

USA

Miami-Cartagena

80

1.-5.12.

Kolumbien

Cartagena

86

6.12

Cartagena-Monteria

320

87

7.12

Monteria-Medellin

350

88

8.-9.12

Medellin

89-90

10.12.

Medellin-Bogotà

 350

91

11.-12.12

Bogotà

92-93

13.12.

Bogotà-Pereira

250

94

14.12.

Pereira

95

15.12.

Pereira-Calì

200

96

16.12.

Calì

97

17.12.

Calì-Pasto

150

98

18.12.

Pasto

99

19.12

Pasto-Quito

250

100

20.-21.12.

Ecuador

Quito

101-102

22.12

Quito-Cantone di Guaranda

230

103

22.12.

Cantone-Guayaquil

 180

104

23.-26.12.

Guayaquil

105-109

27.12.

Guayaquil-Tumbes

300

110

28.12.

Peru

Tumbes-Sullana

250

111

29.12

Sullana-Jean

400

112

30.12

Jean-Chachapoyas

180

113

31.12.

Chachapoyas-Cajamarca

250

114

1.1.17

 Cajamarca

115

2.1.

 Cajamarca-Trujillo

 220

116

3

Trujillo

117

4

Trujillo-Huaraz

310

118

5

Huaraz-Barranca

200

119

6

Barranca-Lima

200

120

7-8.1

Lima

121

9

Lima-Huanacyo

300

122

10

Huancayo-Ayacucho

220

123

11

124

12

Ayacucho-Kiteni

250

125

13

Kiteni-Santa Teresa

200

126

14

127

15

Santa Teresa-Cuzco

180

128

16

129

17

Cuzco-Ayaviri

250

130

18

Ayaviri-Juliaca

120

131

19

Juliaca-Arequipa

250

132

20

133

21

Arequipa-Arica

400

134

22

135

23

Arica-Huara

240

136

24

Huara-Tocoilla

300

138

25

139

26

Tocilla-Antofagasta

200

140

27

Antofagasta-San Pedro de A

320

141

28

 Argentinien

San Pedro-Susques

300

142

29

143

30

144

31.1

Susques-Salta

300

145

1.2.17

146

2.2.17

Salta-Cafayate

Cafayate-Belen

470

147

3

4

148

5

Belen-Tinogasta

160

149

6

Tinogasta-Villa Union

 280

150

7

Villa Union-San Juan

300

151

8

San Juan-Mendoza

180

152

9

Chile

153

10

Mendoza- Santiago

400

154

11

155

12

156

13

157

14

158

15

Santiago-Talca

 260

159

16

Talca-Conception

260

160

17

Conception-Temuco

320

161

18

162

19

Temuco-Junin de Los Andes

 250

163

20

164

21

Argentinien

Junin-Bariloche

 250

165

22

Bariloche

166

23

Bariloche-Osorno

260

167

24

Chile

Osorno-Castro

300

168

25

169

26

Castro-Chaiten

180

170

27

171

28.2.

172

1.3.

Chaiten-Villa amengual

280

173

2.3.

174

3

Villa amengual- Porto Aisen

130

175

4

Porto Aisen-Puerto Murta

260

176

5

177

6

178

7

179

8

Puerto Murta-Cochrane

150

180

9

Argentinien

181

10

Cochrane-Valle Cachabuco

150

182

12

El Ghio-Estancia La Guiller

300

183

13

184

14

Estancia-La Viedma

160

185

15

186

16

187

17

Lago Viedma-Esperanza

220

188

18

189

19

190

20

191

21

Chile

Esperanza-Puerto Natales

200

192

 22

193

 23

194

24

Puerto Natales-Punta Arenas

260

195

25

196

26.3.

Punta Arenas-San Sebastian

200

197

27.3.

Argentinien

San Sebastian-Ushuaia

300

198